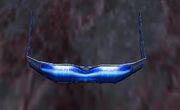 The
X-Ray Scanner
is an optical device used to see through walls and also find hidden objects. It can be used to spot enemies through walls and other obstacles, and also to attack them from through doors or boxes with penetrating weapons such as the
DY357 Magnum
.
They share the same model with the IR Scanner and Night Vision, though with blue lenses.
In-Game Description
A short-range scope that can see through any material - even lead - producing a simplified chromatic representation of the environment.
Appearances
The X-Ray Scanner is found in Area 51: Rescue and Pelagic II: Exploration missions, equipped by Joanna from the start. The FarSight XR-20 also has a built in X-Ray Scanner with a zoom function.
---
Ad blocker interference detected!
Wikia is a free-to-use site that makes money from advertising. We have a modified experience for viewers using ad blockers

Wikia is not accessible if you've made further modifications. Remove the custom ad blocker rule(s) and the page will load as expected.