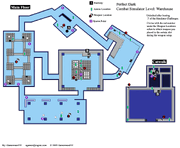 This arena looks like a warehouse for Area 51. It has most of the same colors, white, gray, blue; also some red and yellow. It has many levels; on top of boxes, in the rafters, and on the base floor. This arena uses ladders for 90% of level changes. Some special things about the Warehouse is the hovercrate and the crawl passages in the rafters. You can use the hovercrate as cover from enemies fire or use it to frustrate your opponents by throwing it at them; try attaching a mine on it and send it flying in your opponents direction.
Trivia
When a player chooses any weapon as number 6 in the weapons menu. It is never seen or obtained in this arena.
Ad blocker interference detected!
Wikia is a free-to-use site that makes money from advertising. We have a modified experience for viewers using ad blockers

Wikia is not accessible if you've made further modifications. Remove the custom ad blocker rule(s) and the page will load as expected.