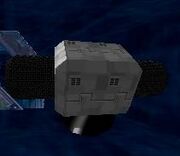 The
Tracer Bug
is a device that appears in one mission in
Perfect Dark
. It must be placed on a limo, in the
Chicago
mission.
It also shares a model with the Comms Rider and Target Amplifier.
In-Game Description
The inner workings of this bug are a closely guarded secret - the self-destruct mechanism forms a large part of the device. It is speculated that this is an example of quantum molecular communication, which explains the phenomenal reliability of the device in field use.
Trivia
The 3D model of the Tracer Bug is the 'Bug' used in Goldeneye.
---