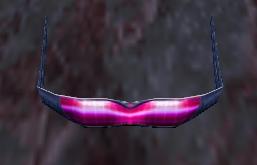 | | | |
| --- | --- | --- |
| " | This scope uses infra-red scanning modulated with ultrasonic data to provide not only a clearer picture of the surrounding area, but also a location of any structural irregularities. It can also locate enemies using cloaking technology or other optical baffles. | " |
| | | |
The
IR Scanner
is an infrared optical device that appears in
Perfect Dark
. It can be used to help users to see in the dark and to locate secret passages and cloaked enemies. It shares the same model with the
Night Vision
and
X-Ray Scanner
gadgets, though with pink lenses.
Appearances
The IR Scanner appears in the Deep Sea: Nullify Threat and Skedar Ruins: Battle Shrine missions, equipped by Joanna Dark from the start. In Deep Sea it is used to see cloaked enemies, and in Skedar Ruins it is used to find a way into the Inner Sanctum and to find which pillars are to be marked.
---
Ad blocker interference detected!
Wikia is a free-to-use site that makes money from advertising. We have a modified experience for viewers using ad blockers

Wikia is not accessible if you've made further modifications. Remove the custom ad blocker rule(s) and the page will load as expected.