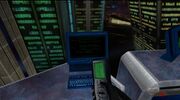 The
Data Uplink
 is a Gadget featured in
Perfect Dark
. It is a remote control-like device that is used to wirelessly hack into various machines such as computer terminals and enemy dropships. It makes apperances in 
DataDyne Central: Defection
,
DataDyne Research: Investigation
, 
Area 51: Rescue
 and 
Carrington Institute - Defense
. It also appears in
Chicago: Stealth
 as the 
Reprogrammer
, although it serves mostly the same function.
This gadget also appears in Combat Simulator, in the Hacker Central game type, and is used in very much the same way to score points.
In-Game Description
Capable of remote interrogation of almost any type of stored data, which is sent directly back to the institute computer hackers. A variant of this device provides the hackers with a direct link into the local system.
---
Ad blocker interference detected!
Wikia is a free-to-use site that makes money from advertising. We have a modified experience for viewers using ad blockers

Wikia is not accessible if you've made further modifications. Remove the custom ad blocker rule(s) and the page will load as expected.